High demand for TOPTV. They are sold out apparently. They are getting new stock.
Find out more : http://toptv.co.za/
Prices: From R99
For package information : TOPTV packages
From as little as R99 per month subscribers will have access to over 20 channels of local and international programming and more than 50 channels if they're prepared to fork out R249 per month. There are also a bunch of options in between.
Designed to provide affordable extra entertainment for the majority of South Africans who can't afford DStv and who are weary of the limited offering provided by the cash-strapped free-to-air broadcasters, TopTV offers four different different pay-TV bouquets which are bundled into seven different pricing structures.
The four different packages are:
Variety
Kids & Music
Entertainment & Knowledge
Ultimate Movies
Within the four packages there are seven different pricing options, ranging from R99 to R249 per month. The pricing structure is as follows: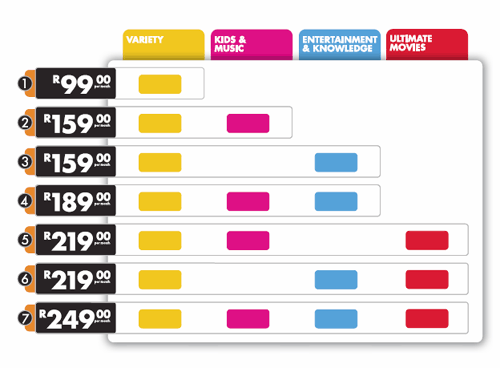 So for R99 per month you'll get the Variety bouquet. You can add either Kids & Music or Entertainment & Knowledge to your Variety for R159/pm, or pay R189/pm for all three of them.
R219/pm will get you Variety, either K&M or E&K and the Ultimate Movies bouquet. To get all four of them you will pay the maximum price of R249/pm.
To put the maximum price in perspective: DStv's premium bouquet will set you back R529/pm – more than double the most you could possibly pay for TopTV. The M-Net analogue channel alone costs R285/pm – without DStv.
So as far as pricing goes, if you can't afford TopTV then you clearly don't want to. That's OK. Don't beat yourself up. Welfare TV is your friend. Trusty as an old, familiar pair of boots.
The Big Question, however, is the amount of bang you get for your buck. Just like the good folks at DStv Compact, your new friends at TopTV have cunningly worked it that the cheapest package has some good stuff on it… but not everything you want.
Your best bet is to suck it up and get the premium bouquet – all four packages. If you want to keep it to a minimum, or perhaps mix and match a bit, this is what each of the four packages contains:
(Click each to see full table. Links open in popup windows.)
To summarise them for you:
Variety
This is the standard package which comes with all subscriptions, regardless of the cost. It contains a mix of news channels, sports, fashion, fine living, audio channels, religion and TopTV's flagship local channel, Top One.
Top One is the equivalent of M-Net, described as "a specially packaged family entertainment channel with strong international and local programming. It has something for everyone – drama, lifestyle and award-winning series".
Schedules have not yet been provided by the channel so we can't tell you what shows you are likely to see on it, but the description says it all. We'll keep you posted on specifics.
The Variety package also includes the SABC channels and e.tv, which means you can still watch all your favourite shows on the free channels. An added bonus is that you can watch them in digital quality, as opposed to the current crappy analogue picture.
Kids & Music
If you're a big believer in sticking your kids in front of the telly with a big bag of sweets for eight hours a day, this is the package for you. It even includes BabyTV, a 24-hour channel for, well, babies.
It's not just about the kiddies, though – there are a number of video music channels as well (as opposed to the audio channels on Variety, which act as a surrogate sound system and don't have accompanying videos).
The video music channels include Classica (opera, classical, jazz), Kerrang! (rock and hard rock), Kiss (urban, hip-hop and R&B) and Smash Hits, the UK's No. 1 pop channel.
The bouquet also includes Fuel TV, an extreme sports channel that covers the lifestyle and culture of skateboarding, snowboarding, kitesurfing, BMX, motocross, base jumping and many others.
We're still trying to figure out how that relates to either kids or music, but who cares? It is what it is. Something mindless to switch over to when Junior falls asleep watching Mr. Snail or Pim & Pimba.
Entertainment & Knowledge
The "Entertainment" part of this package includes channels like BET (Black Entertainment Television), Fox Entertainment (comedy, drama, sci-fi, action, animation and reality shows), Fox Retro (classic series from the 70s-90s) and Star!, a gossip channel similar to DStv's E! Entertainment.
The "Knowledge" part of this bouquet is all the Discovery-type programmes, covering genres such as science, wildlife and nature, travel, crime, exploration and history.
TopTV has its own little stable of such channels including Top Crime, Top Explore and Top History, which has a strong focus on South African and African history.
Ultimate Movies
The Variety bouquet comes with one movie channel – Metro Goldwyn Mayer (MGM) – which is similar to DStv's Turner Classic Movies (TCM) channel. Classics, in other words. Not exactly the most current, happening films of the day.
The Ultimate Movies bouquet is a must if you are looking for 24-hour, non-stop movies.
TopTV has its own channel – Top Movies – which broadcasts current and classic blockbusters, with two additional channels that broadcast the same movies two hours later and 24 hours later respectively.
Showtime is a 24-hour movie channel as well (no Showtime television series will air on it – only movies). It features box office hits from the action, thriller, sci-fi and horror genres and has no commercial breaks.
The final movie channel is Silver, which features independent movie titles from around the world that push the limits of cinema. A sort of Cinema Nouveau, if you like. Arsty nudes.
Also in the Ultimate Movies bouquet is Fox FX, which has nothing to do with movies. It's kind of an added bonus for shelling out the bucks to get the movies package, which only comes with the more expensive options.
FX is similar to DStv's M-Net Action channel, with a focus on action and comedy series like Underbelly, Entourage, The Office and Fear Factor.
---
Now that you know what each of the bouquets offer, you can put together your preferred package using the pricing structure provided above.
Before you do that, however, you also need to factor in the cost of the setup package, which includes the decoder, the dish and installation. The cost for the setup package is R499 (limited offer, while stocks last) and includes:
A TopTV decoder (STB)
Installation
Smart Card
Power Supply
Male / Female RF Cable
RCA Cable
Remote Control Unit
Batteries
Instruction Manual for the STB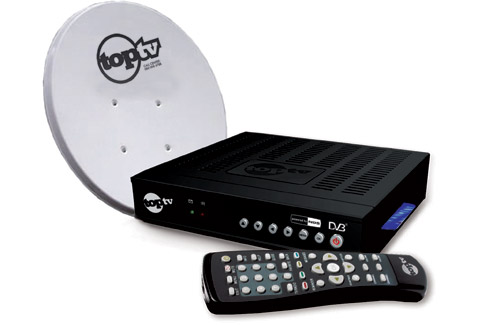 For further information call the TopTV customer care line between 7am and 11pm every day on 08600 TOPTV/08600 86788, or visit www.toptv.co.za
Note the "while stocks last" bit – once the rush is over that setup package will increase in price. If you're considering subscribing to TopTV you should probably get sorted as soon as possible.
TopTV's set top boxes and satellite dishes will be available through Pep, Game, Makro, Dion, selected Jumbo Cash & Carry stores, CCW, Brown's and Weirs, as well as House & Home. More stockists will be added after the launch on Saturday 1 May.
To conclude: if you opt for the cheapest subscription package it will cost you R598 straight up (installation and first month's subscription). After that it will be just R99 per month.
The most expensive package will set you back R798 in your first month, after which you can breathe easy with R249/pm.
The question you need to ask yourself is whether or not you are ready to pay for better entertainment than you currently have. If so, get cracking.
source: tvsa – dummies guide to toptv
Category: Gadgets and Gizmos